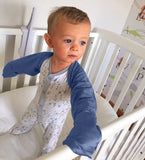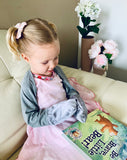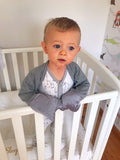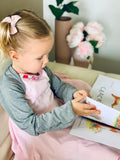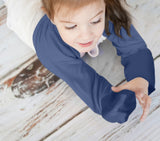 Eczema Flipover Mitten Sleeves | Scratch Mittens for Children | Mitten Sleeves for Children
Stop your child scratching and causing themselves damage during the day or while playing with our Eczema Flipover Mitten Sleeves for babies and children.
Specifically designed for children with eczema who scratch or rub themselves due to skin irritation, the bamboo, organic cotton, elastane & silky smooth silk fabric blend is super-soft and highly breathable, providing the ultimate in comfort for your child.
Available in the popular and gender neutral colour Grey Marle these sleeves can be worn under or over other clothing and coordinates well with other colours they are wearing. Our Grey Marle colour was also specifically selected for these products as it doesn't show many of the stains that eczema creams/ointments and eczema in general can cause to fabric. 
The smooth 100% Silk outer layer of mittens that can flip open or closed, minimises abrasion on the skin. Your child can wear them and have complete access to their hands for playing, eating, going to the toilet and all the other important things kids need to do, however they can be quickly & easily closed securely by parents or carers to stop scratching when necessary. 
Give your child's skin has a chance to heal without the interference of little fingers scratching and damaging their skin during the day, in the car, the pram or while playing.
Like all our products, eczema sleeves can also be used alongside any necessary medications or creams and work in conjunction with these treatments giving them the best chance possible to stay on skin longer and provide relief and healing.
Eczema Sleeves clever sizing design will also provide you with value for money as each size can be worn across several ages successfully, meaning you won't have to upgrade as often as kids grow - which they do quickly, all the time!
To choose the Eczema Sleeve size that best fits your child,  calculate the wingspan from the chart below.
Simply measure from the middle of the back to the fingertips and multiply by 2.
**No 2 children are ever exactly the same size at the same age, so measurements are a more accurate guide rather than by the suggested age. 
If your child's measurements are on the lower end of the wingspan measurements and you're wanting a more snug fit, please select the previous size as there is some stretch in our fabric blend that will still allow for growth.
SIZE GUIDE:
6-12mths (69cm - 74cm Wingspan)
1-2 years (75-85cm Wingspan)
3-4 years (86cm - 99cm Wingspan)
5-6 years (100cm - 116cm Wingspan) -

 COLOUR: Grey Marle 
(*As our sleeves are made from all natural fibres colour may vary slightly)
Excellent
Brilliantly designed, very helpful and comforting at night for my baby. Thank you.